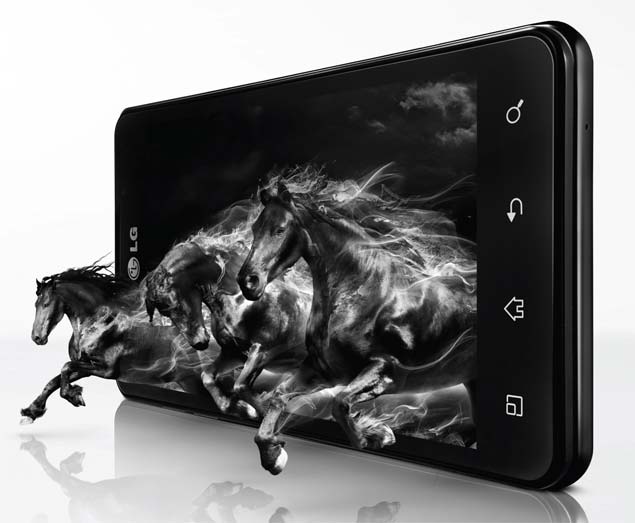 LG Electronics has now officially launched two new Optimus devices - the LG Optimus 3D MAX and the Optimus L7 smartphones in India. Both these devices have been available on
Flipkart for about a week now
.
A successor to the LG Optimus 3D, the LG Optimus 3D MAX sports a 4.3-inch screen with WVGA resolution & NOVA Display. It is powered by a 1.2GHz dual-core processor, 1GB RAM, has 8GB of internal storage and two 5 MP cameras. Priced at Rs. 30,500 (Market Operating Price), the LG Optimus 3D MAX runs on Android 2.3 and has a 1520mAh battery.
Soon Kwon, President South West Asia Region & MD LG India shares, "With the Optimus 3D MAX, we want to set new standards of quality viewing and powerful performance on mobiles packed in a slim and modern design".
The other handset announced is the LG Optimus L7, which has a 4.3-inch display and runs on Android 4.0. LG Optimus L7 also has a 5MP rear camera but its front camera is 1.3 MP. Other features include a 1 GHz processor, 1 GB RAM and onboard storage on 4 GB. The MOP of this smartphone is Rs. 19, 900.
"Design is consistently an important factor for customers when choosing a mobile phone and with L-Style we're going to go back to our roots as a company focused on products that fit into the lifestyle of customers," adds Kwon.
LG Optimus 3D Max P725 key specs:
Android 2.3
5 MP camera
0.3 MP front camera
4.3-inch TFT LCD
1.2 GHz dual-core processor
Expandable storage capacity up to 32 GB
1520 mAh battery
LG Optimus L7 P705 key specs:
Android 4.0
5 MP camera
0.3 MP front camera
4.3-inch LCD
1 GHz processor
Expandable storage capacity up to 32 GB
1700 mAh battery